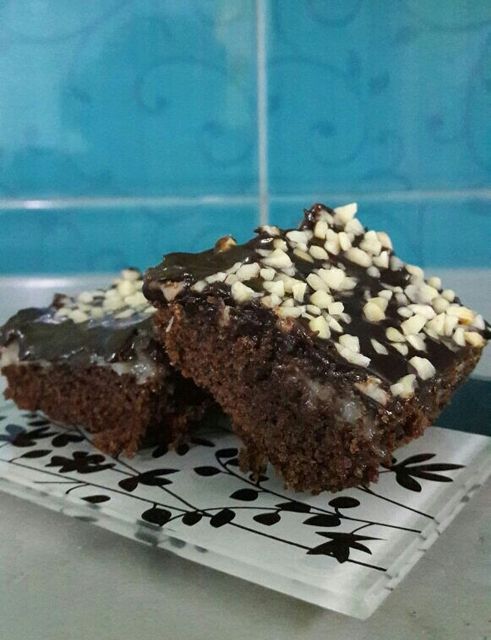 Sedap....sedap....sedap.....gabungan kelapa n coklat..
SubhanaAllah...tersangatlar seedaappppnyer...Alhamdulillah..
psst.....xingat 100 days celenker.....(mmg berat naik balik pun...😂😆.....
xper...nti turunkan balik eeh...😰😭)
Ade lebihan kelapa buat karot kek tuari....
google resepi brownies kelapa......plan nak buat oreo brownies
actually....tapi sbb resepi tu kena guna mixer...tu yg malazzz
sket....sabo yea farhana....😆
Padahal lapo....tapi bila mak tny nak buat brownies or fish n chip
dulu....cepat2 jwp brownies....padahal dah bgtau...bile adunan
kek masak..xleh terus mkn...ade layer lain nak kena buat...
Akak ckp....nti lg lmbt.....(mak rase akak takut klu buat fish n chip dulu....nti alih2 angin malazzz mak dtg...postpone plak.....😄)
Mase buat brownies ni pun entah bape kali tny bila bole mkn...
si bujang kecik bila ngadap hp...mmg mkn pun lupe....
sbb dpt pegang weekendjek.....klu x double pening mak...😁
Kelapa tu mak buat 1/2 the resepi...sbb itujek kelapa yg ade...
just nice rasenyer...klu ikut resepi....mesti too sweet i think....
atasnya mak tabur roasted almond nib....balance brownies aritu..
Resepinya in english.....malas nak retype ....guna app translatelar
yea....lagipun simple englishjek.....
Sumber : Homecookingadventure
Ingredients
3 oz (100g) semisweet chocolate
3/4 cup (170g) butter
1 tsp (1g) instant coffee powder (mak omit)
1 cup (200g) sugar
3 eggs
1 tsp (5g) vanilla extract
1 tbsp (8g) dark cocoa powder
1/2 tsp (2g) salt
3/4 cup (95g) flour
Coconut Filling
12 oz (340g) sweetened condensed milk
2 1/2 cups (200g) unsweetened coconut flakes
Chocolate Ganache
1/2 cup (100g) whipping cream
4 oz (120g) semisweet chocolate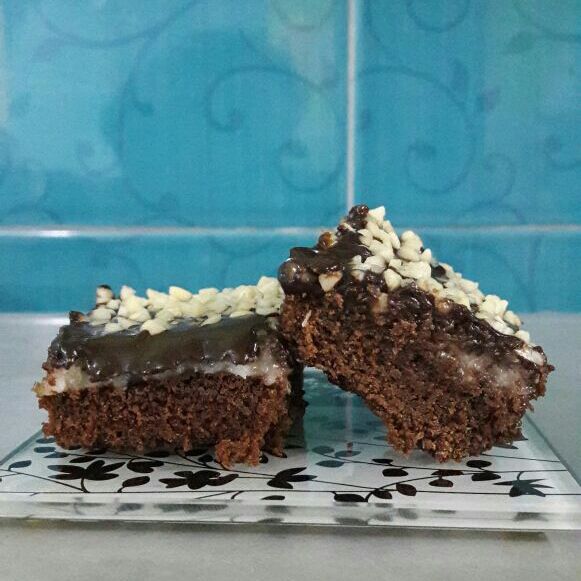 Directions
Preheat oven to 350F (180C).
Butter the sides and bottom of a 8x8 inch (20 X 20 cm) or 9x9 inch (23x23cm) baking pan.(mak used 9x9)
Line the pan with parchment paper.
Melt the chocolate and butter in a medium bowl, over bain-marie, stirring occasionally, until smooth.
Remove the pan from heat but keep the bowl over the water. Add instant coffee, stir in the sugar, then remove the bowl from the pan.
Cool slightly. Incorporate the eggs one at a time into the mixture and whisk until well combined.
Stir in the vanilla extract then add the flour, salt, cocoa powder and stir well.
Pour the batter into the prepared pan and bake for about 30 minutes until a toothpick inserted in the center comes out with a few moist crumbs sticking to it. (Maknyer masak 45 min)
Let the brownies cool completely.
In a bowl combine sweetened condensed milk and coconut flakes.
Spread evenly on top of brownies.
Prepare the chocolate ganache. Heat the cream in a small saucepan. When the cream just begins to boil at the edges, remove from heat and pour over the chopped chocolate.
Let sit one minute, then stir until smooth. Spread it evenly and refrigerate for at least 1 hour before serving. Cut into squares and serve.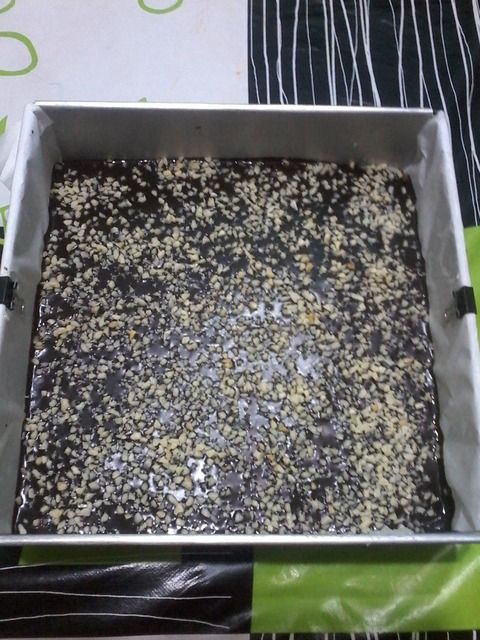 Untuk senang keluarkan brownies....terutama yg ade topping
mcm 👆....
Lebihkan parchment paper...kena ukurlah pki pembaris n pensil...baru proper.....mcm mak punya lebar 22 and tinggi tepi 3 so mak xtrakan lg 2 ...
then foldkan pade ukuran 22... so senang nak letak dlm baking pan...lebihan paper..... clip dgn paper clip.....